Transforming the Look and Feel of Buildings and Structures
Valmont Structures Architectural Facades line offers designers the freedom to achieve their vision. Offering a variety of material options, including perforated metal, expanded metals, and wire mesh. What's more, if you can't find something in our product range that fits your needs, our engineering team will work with you to create something truly unique. Valmont supplies complete engineered systems, providing builders with the confidence that we'll deliver the complete solution, on budget, on time.
---
Facade Systems
Ease and SimplicityAvailable as a complete engineering package, our Atmosphere, Aurora and Transit Mesh facade systems were created to help simplify choice, shorten lead times and streamline installation. All the while, these systems offer you the design flexibility and functionality that Valmont® Structures solutions are known for.
---
The Atmosphere System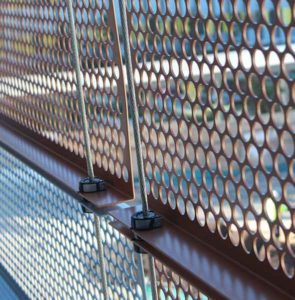 The Atmosphere system offers a simple solution for those who need a visually striking facade. Saving you effort and money, Atmosphere provides solar shading and visual screening, while fulfilling your desire for striking design.
Atmosphere facade panels come in a range of design options to match nearly any of your design specifications. Our engineering team tailors each installation to your requirements, taking building location and orientation into account. Once your panels have been designed and produced, they are installed on tensioned stainless steel cables. Panels are delivered to site, ready for fast installation, whether they cover the entire building face or are placed in targeted areas.Compatible accessories:
Compatible accessories:
---
The Aurora System
The Aurora system is a unique cassetted system that is compatible with expanded or perforated metal. The Aurora system allows for these materials to be integrated in a car parking application or facade and is the only system of its kind on the market that is capable of integration with a vehicle safety barrier. Its permeable surface allows for code-compliant airflow, safety and constructability. Aurora offers a unique balance of high functionality with an outstanding aesthetic outcome.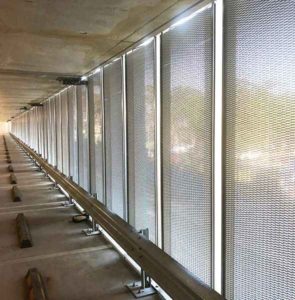 Aurora is a highly customizable system that can be adjusted to meet any specific requirements, allowing an unrivaled ability to successfully integrate with any project. Custom design options allow you to tailor the facade with nearly any image or design, while reducing the light and noise pollution commonly associated with parking garages.
---
The Transit Mesh System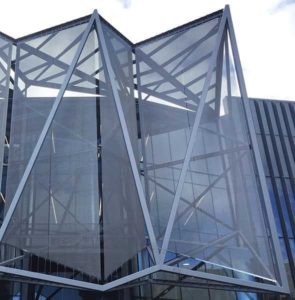 At Valmont® Structures, we know that making a bold statement in an exterior space doesn't always require a custom facade. Sometimes, it needs the subtle touch. That's why we created the Transit Mesh system.
To complement a variety of structure designs, Transit Mesh is manufactured in a variety of different shapes. Further flexibility can be found in the materials that are available in Transit Mesh, including aluminum, stainless steel, or brass. Regardless of how you use Transit Mesh, there is also a full range of attachment options available to ensure it performs exactly as expected.
Compatible accessories:
---
Engineered Attachment Systems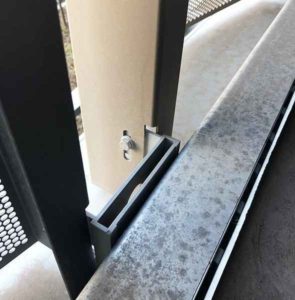 Attachment systems from Valmont® Structures provide enhanced versatility to our architectural range, with a variety of uses and custom design functions. From structural designs such as facades to art installations, our attachment systems have limitless architectural potential.
---
Pic Perf Technique
Image-based facades from Valmont® Structures are an innovative addition to our already extensive architectural catalog. Your architectural designs are perforated into a metal canvas to precise specifications, casting a striking visual statement. Use the facades as moving artwork or custom-design them with your brand's graphics in mind to see bold frontage aesthetics and innovative architecture meet. Pic Perf facades from Valmont Structures are an artistic statement unto themselves.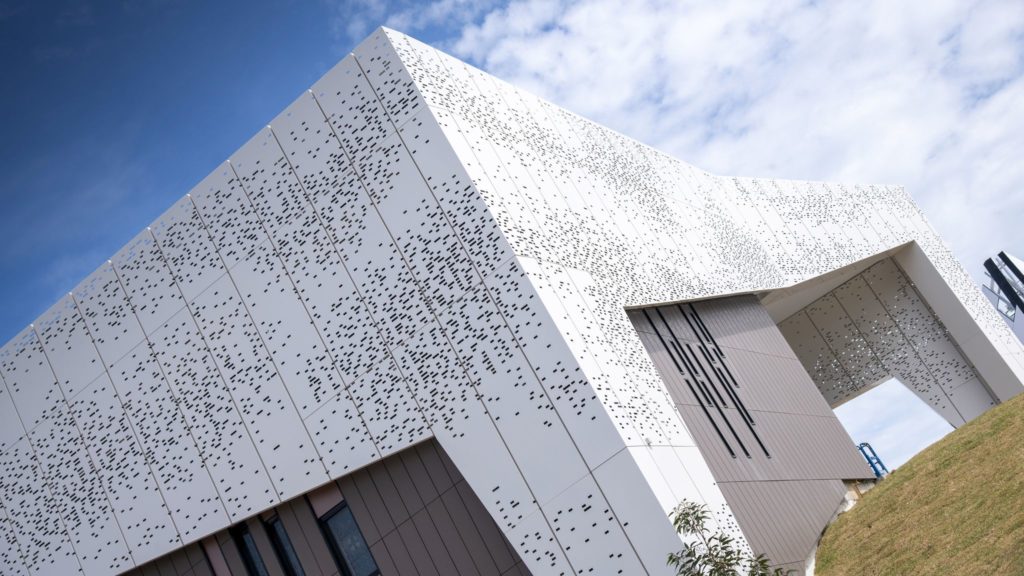 How do image-based facades work?
These custom-made products use perforations to create images in a variety of metals. Pic Perf can be installed in custom-designed metal facades, as well as in fencing applications or as an innovative addition to walkways or interiors. They can be manufactured to any size and with a variety of coatings options, from untreated to anodized or powder coated. The facades can come as a single metal panel or can span multiple panels. Whatever the application, Pic Perf provides a unique metallic textural finish that is also tough and durable.
Image-based facades can cover an entire building face while also providing a high open area for parking garage screening. Part of our ethos is ensuring that you always get a solution that suits your exact requirements. Discuss your needs with our expert team and we can manufacture a Pic Perf project unique to you. We tailor our designs to accommodate the ideal conditions for your application while considering all technical and code mandated factors.
A number of factors determine how we recreate your desired image to truly fit your purpose, including the amount of light to which the facade is exposed, whether light comes from in front of or behind your metal panels, and viewing distances. Words can also be incorporated into your designs if desired, meaning there is no end to the interesting ways image-based facades can be used.
Interesting designs using image-based facades
The only limit to the design of your image-based facade is your imagination. Whether creating signage, corporate logos and special features, Pic Perf gives your brand a graphic edge over competitors.
Our clients have already made use of our innovative image-based facades in their building designs. Across the globe, bold and eye-catching perforations have been used to add meaning and texture to commercial architecture.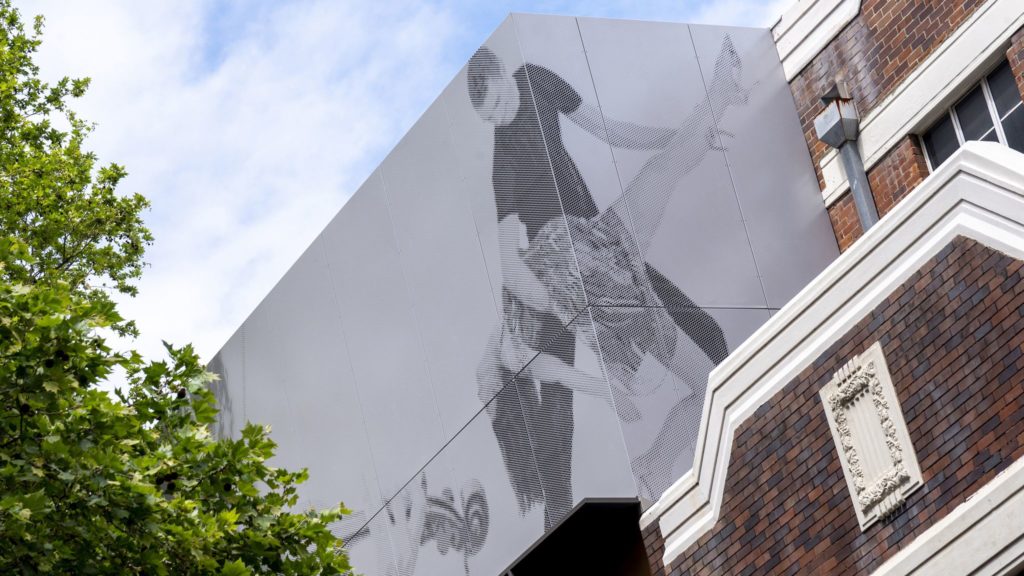 ---
Protective Coatings for Architectural Facades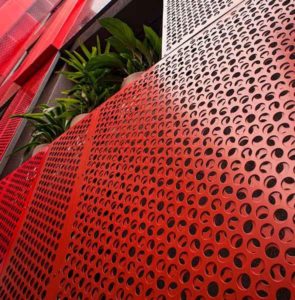 Nearly Unlimited Options for Protecting Your Investment
Whether your Valmont® Structures facade is aluminum, stainless, or other metals, our coating options are designed to protect and accentuate your design. Depending on substrate, project location, and performance requirements, powder coat, liquid paint, PVDF, or anodizing are available options.